The mere thought of getting a cardiac arrest can make your heart beat faster for a moment. But today, even if a heart attack is a perilous event, there are many ways to circumvent the same.
Angioplasty or stenting is one such lifesaver option, especially when performed right after a heart attack. Putting in a stent helps prevent the narrowing of arteries and substantially improve your blood flow and prevent further damage to your heart. Many patients undergo Angioplasty once they are diagnosed with coronary artery disease. Mainly, because of two reasons: a doctor suggesting it because of its high success rate and less invasive technique and secondly it improves the lifestyle significantly by reducing the risk of getting another heart attack.
Now, let us go deeper into understanding what these stents are and how can they help reduce further problems.
Stents are tiny mesh tubes inserted to keep coronary blood vessels (arteries) open post angioplasty. The coronary arteries are responsible for carrying blood and oxygen to heart muscle cells. A heart attack often occurs when plaque breaks open and causes the formation of a blood clot in a partially clogged artery eventually blocking the blood flow. This is when stenting comes in the picture and can be a lifesaver option. Stents come in various forms but DES (Drug Eluting Stent) is the most commonly used ones during Angioplasty worldwide.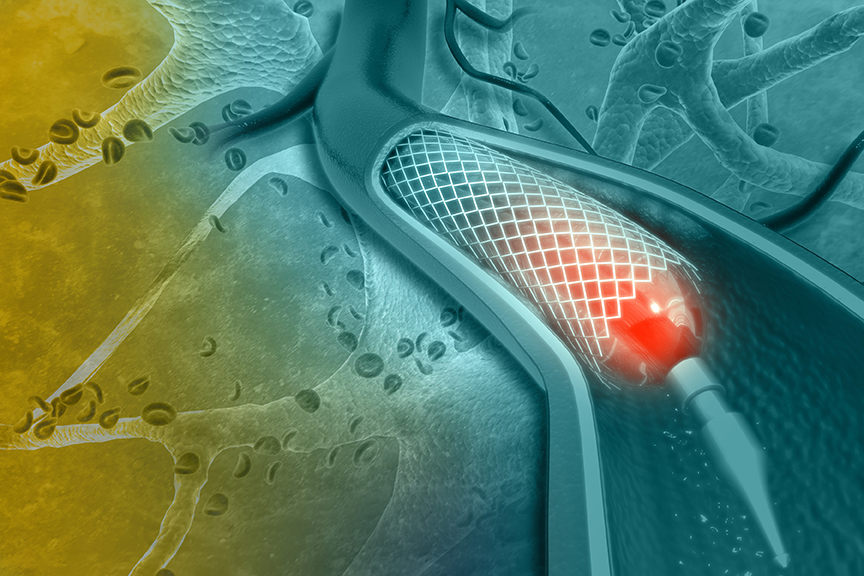 After implantation, DES releases a drug gradually from its outer coating to aid in preventing blockage at the particular site. Hence, DES are preferred over BMS (Bare Metal Stent) for the majority of the patients as they prevent recurring blockages in the arteries. Also, the recent DES are termed to be at least as safe as BMS. However, there are chances blood vessels could again get blocked after stent placement. In the case of BMS, post-implantation as the vessel heals, tissue begins to grow around the stent but in some cases, such scar tissue overgrowth can lead to re-blockage of the vessel. However, a DES implantation can avoid this phenomenon as it prevents scar tissue formation thus maintaining proper blood flow. But, you will require to regularly take blood-thinning medicines to avoid blood clot formation in the stent and prevent the blood vessel from getting blocked again. There are various DES & BMS brands available and they come with their own set of benefits and a cardiologist may suggest one to you based on the requirement.
In simple words, Drug-Eluting Stent is effective and can reduce the chances of future heart attacks to some extent. But, remember that stenting can be a life-saver option only if you continue with suggested medication and lifestyle modification like eating healthy food, regular exercise, etc. that your doctor has advised you to follow post the angioplasty.