Hip pain is not normal and can cause serious trouble if not treated wisely. Any discomfort or painful sensation near the thighbone or pelvic girdle can be termed as hip pain. The hip joint is a ball and socket synovial joint that is responsible for providing a wide range of motion for the lower torso. It is because of the hip joint one can stand, walk, dance or lift. It is also considered as one of the most important joint when it comes to stability. However, as the person ages, the joint may undergo wear and tear.
Though hip pain to an extent can be treated with medication, injections and physical therapy, hip replacement surgery is the safest and the best option to treat hip-related problems when nothing else finds success in relieving the pain. A hip replacement could be recommended to any patient, in case they are suffering from chronic hip pain which is hindering their daily activities and other non-invasive methods of pain reduction have proved to be ineffective or are no longer effective to improve their condition. A patient with symptoms of severe hip arthritis, including as stated below, could be suggested to go for Hip replacement surgery.
1) Hip pain: An aching hip can make any patient's life miserable. The most vital factor in selecting to have a hip replacement is quantifying the extent to which pain is affecting a patient. Pain that leads to interference in performing daily activities, even not letting anyone have a sound sleep, and is restricted between hip and knee could indicate arthritis of the hip. Some patients need the support of a cane or are also seen limping. A set of such patients regularly rely on pain-killer consumption to deal with their pain. In such cases, doctors usually suggest a patient with a replacement surgery to get long-lasting relief.
2) Stiffness: Difficulty in performing certain normal activities like doing weight training, cycling or even bending down for picking basic objects
3) Sprain: A sprain in a muscle occurs when the ligament is stretched than the usual limit causing the area to swell. A sprain can be caused by any sudden fall, twist, and turn of the muscle groups/joints.
4) Difficulty in weight-bearing: In case a patient is not able to stand on his/her paining leg even for a minute with support, it indicates that their hip's condition is very bad and they need a total hip replacement surgery.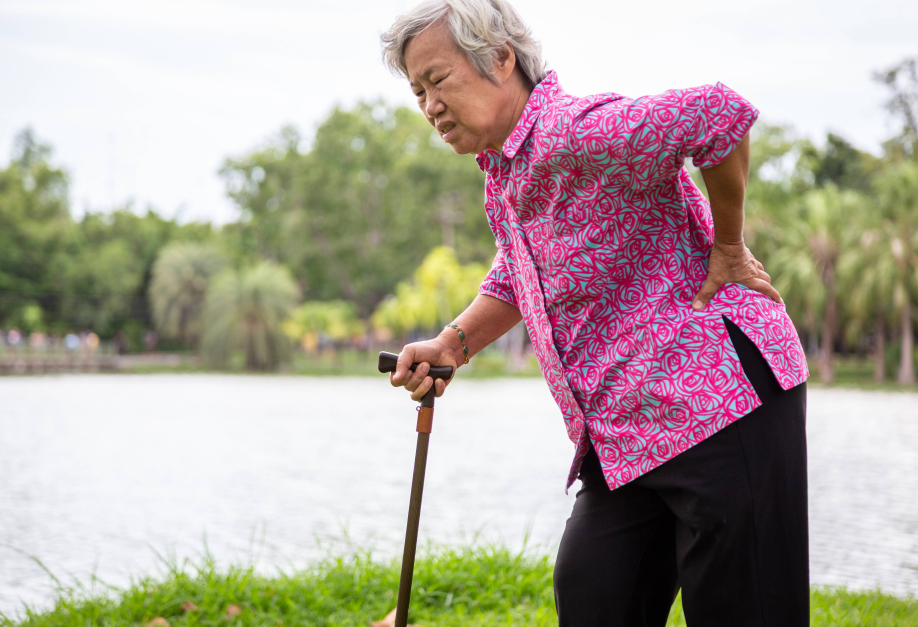 5) Muscle stress: When the body is stressed, muscles tense up. Muscle tension is the body's way of guarding against injury and pain. For e.g when you sit in one position for some time, you may end up making them stressed. This causes a change in the body's nervous system by contracting blood vessels and reducing blow flow.
6) Fractures. A hip fracture is a fracture of the upper region of the femur or the thighbone. Fractures lead to swelling, difficulty in walking, sitting, etc causing severe pain.
Also, if the patient is suffering from Osteoarthritis or Osteoporosis, they can be advised to undergo a Total Hip Replacement. With Osteoarthritis, the joints become stiff and swollen due to inflammation and a breakdown of cartilage, causing pain and deformity are observed. Talking about Osteoporosis, it is a bone disease that occurs when the body loses too much bone, makes too little bone, or both.
So, in case you are experiencing severe pain with no sign of pain killers bailing you out of the dreadful situation, a hip replacement surgery then can be regarded as the best treatment option. Remember that the surgery option should only be considered when all other conservative treatment options have failed to provide relief from continuous hip pain and restricted mobility.
Also, remember that whatever the cause is, hip pain is more common as you grow older. And over time, your joint will see a lot of wear and tear. So make sure you are taking adequate care of the joints by eating healthy and doing the right exercises to keep your bone health at its best.