It is normal, if you face side effects from COVID-19 vaccines, as a matter of fact, from any vaccine. COVID-19 vaccines are the earliest ones to be developed from mRNA technology. Despite being highly effective, these vaccines also bear a possibility of causing a visible immune response (termed as "reactogenic"), leading to side effects.
These side effects are characteristic of inflammation brought by vaccines and are a symbol that your body is developing an immune response to the vaccine. Some vaccines are more reactogenic while some people may experience worse reactions versus others. The side effects of COVID-19 vaccines resemble those experienced after receiving any other vaccine.
What side effects are likely to occur after the COVID-19 vaccination?
Though side effects may differ with the type of COVID-19 vaccine, the traditional side effect is tenderness at the injection site. You may also come across other side effects such as tiredness, headache, muscle and/or joint pain, chills, and perhaps fever. These side effects will normally be felt for a couple of days, and maximum for a few days.
Will you experience the same side effects after each dose?
Since COVID-19 vaccines come in two doses, the varying response can be noticed. As per evidence, side effects were more frequently felt after the second dose in clinical trials.
Can side effects be more prominent in elderly and/or co-morbid patients?
No—actually, side effects have been less commonly seen and have been less severe in adults older than 55 years after vaccination, as per the clinical trials.
Do children experience side effects from COVID-19 vaccines?
The side-effect profile of COVID-19 vaccines in children is not yet understood completely.
How would you ensure that your side effects are normal?
The details of side effects will be explained to you at the time of vaccination and you will also be given the details as to when you should consult a doctor.
You can consult your doctor about taking over-the-counter medications, such as paracetamol if you have pain or discomfort at the injection site. You can also try the following measures, to relieve your pain and discomfort:
Apply a clean and damp cloth over the site.
Perform frequent movements with your arm, where you have received the shot.
Consume lots of fluids and dress casually, if you have a fever.
When to consult your doctor?
It is advised that you should contact your doctor if the inflammation at your injection site increases after 24 hours, or in case, your side effects are a cause of worry and are not disappearing even after a few days.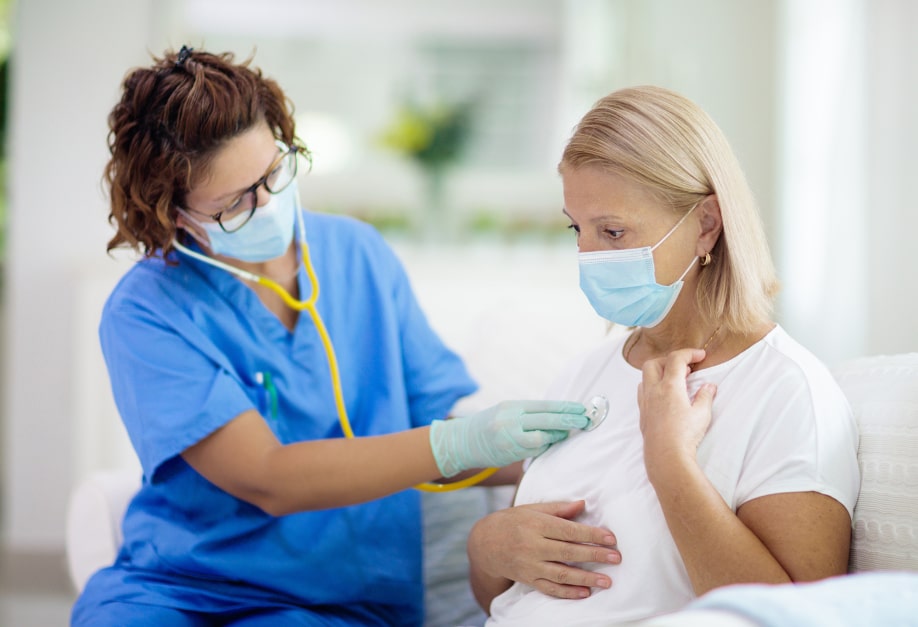 How will you ensure that you are experiencing side effects and not symptoms of possible COVID-19 infection?
The side effects of the vaccine usually commence within 12 to 24 hours after getting vaccinated. However, it may be tough to differentiate between symptoms and side effects, if you get infected between vaccine doses. If you experience side effects that continue even after 48 hours, you should consult a doctor.
Is it possible for me to contract COVID-19 between doses?
Yes. Hence, each one must continue wearing masks, follow social distancing norms, and engage in frequent hand washing.
The first dose won't give total protection, and it takes approximately seven days before you will achieve a full protective level of immunity after your second dose that occurs in about 95% of vaccine receivers. You could develop COVID-19 if you get exposed to SARS-CoV-2 before this period. Even after receiving both doses, it will still be vital to continue practicing public health saving strategies stated above, until the pandemic is brought under control.
Can you catch COVID-19 from the vaccine?
No, it is not possible to catch COVID-19 from the vaccine, but it is indeed possible to have developed COVID-19 and not realize until you get symptoms until you get this vaccine. The most vital symptoms to look out for are:
a new continuous cough
a high temperature
a loss of, or alteration in, your normal sense of taste or smell
Though a minor fever can happen within 2 days of vaccination, if you carry any other COVID-19 symptoms or your fever lasts for a prolonged duration, quarantine yourself and get tested.
Can you go back to normal activities after having your vaccine?
Yes. You should be able to restart routine activities as long as you feel well. If your arm is predominantly sore, you may find it difficult to lift heavy objects with that arm. If you feel fatigued, rest, and avoid performing complex tasks.
Will the vaccine protect you?
The COVID-19 vaccines that have been approved for use have demonstrated a reduction in the chances of getting COVID-19 disease in individuals who have taken the vaccine. Each vaccine has been tested in more than 20,000 individuals in multiple countries and is shown to be safe. However, like all medicines, no vaccine is 100% effective, so you should continue to take recommended precautions to avoid infection. Some people may still get COVID-19 despite having a vaccination, but this would be less severe.
Concluding Remarks
Side effects may resemble symptoms of flu and even disturb your ability to perform routine activities, but normally they disappear in a few days.
In the case of the majority of current COVID-19 vaccines, you will need 2 shots for them to be effective. Even if you develop side effects after the first shot, contract the second shot, except in cases where your doctor tells you not to get a second shot.
It takes time for your body to build protection after any vaccination. COVID-19 vaccines that require 2 shots may not protect you until a week or two after your second shot.
Everyone needs to continue using all the tools available to help stop this pandemic as we learn more about how COVID-19 vaccines work in real-world conditions. Cover your mouth and nose with a mask when around others, stay at least 6 feet away from others, avoid crowds, and wash your hands often.